Our Production Process
To ensure a continuous quality material must be selected from reliable and consistent quarries. All dashing aggregates supplied by Derbyshire Specialist Aggregates are washed and screened at least twice prior to being packaged. It is normal for many products to be washed and screened again as part of the blending process used to create the large range of colours and textures demanded by our customers.
It is important that the products produced are
carefully handled during the washing, blending and bagging process to minimise the attrition created when aggregates rub together which can cause a higher percentage of fines in the finished product.
The bagging and shrink-wrapping which effectively seals the product until it reaches its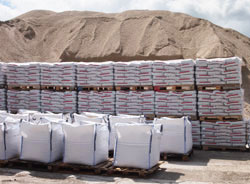 site is done using robotic packing lines that prevent manual handling of the product. Colours of aggregates occur naturally and some variation can be present within the quarry. At Derbyshire Specialist Aggregates, we deal with this by holding large stocks which are constantly rotated and blended to control colour consistency to keep any variation to a minimum. This is an important key factor in our quality control and at any time we stock in the region of 20,000 tonnes of materials to ensure consistency of grade and colour.
The manufacture of standard products is usually carried out in production runs of 100 tonnes or more to ensure a high quality and consistent result with all batches.
Contact us on 01629 636500 for any help or technical advice or Contact Us or email sales@derbyaggs.com
Pebbledashing Products