All About Us!
Derbyshire Specialist Aggregates is the largest producer and supplier of pebbledashing aggregate in the UK. It is what the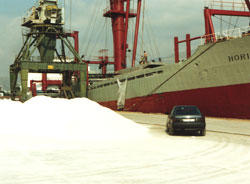 company was founded on back in 1984 and remains one of the core businesses today. The supply and demand of the pebbledashing product has changed beyond recognition from being a niche trade to now, where we import from all of the world, materials of varying colours, shapes and textures to mix, wash and regrade into first class pebbledashing materials and supply to all the major users.
Raw materials are sourced all over the uk and abroad, ship loads of 3000 tonnes are brought into Liverpool and Goole most months of the season and UK materials brought in from all corners of the country.
These are all transported to our central processing and distribution center in Derbyshire where product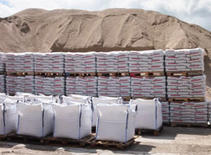 s are mixed to various recipes to produce an endless range of standard or special dashing chippings.
All our aggregates are washed and graded through tumble washers which gives a very aggressive wash to fully clean the stones (unwashed or rinsed aggregates must never be used) we have two of these washers running at 150 tonnes per hour capacity. Materials are then drained in holding bays before being bagged on our automated packing lines of which we have four into polythene bags shrinkwrapped on pallets ready to go.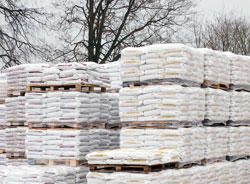 We are holding thousands of tonnes of raw materials at the docks, at Derbyshire finished packed stocks are normally around 1500 to 2000 tonnes to ensure we can deliver our products on time, quality and price whether its to Major Public Sector Refurbishment contracts to New Build Developments or the Independent Specialist Plasterer anywhere in the UK from full loads to a few bags for patching or repairs.
Whatever your needs large or small we have been doing this for over 30 years so can help with any query or problem you might come across just give us a call.
We are very proud of our operations and products at Youlgrave in Derbyshire, but don't just take our word for it! Anyone in the pebbledashing business is welcome to come and see for themselves the care we put into making these products, our extensive range of products and to take away any samples needed. Call today to arrange a visit or just pop in, we will be happy to assist in any way.
Contact Us or Call 01629 636500 or email sales@derbyaggs.com