Contractors
Derbyshire Specialist Aggregates can supply all the pebbledashing aggregate you need, whether you are a dashing one house, or several. We deliver nationwide straight to your yard, or customers' house with next day deliveries available on orders before 1pm.
Always In Stock
We never keep our customers waiting for a product. We achieve this by having the largest production runs in the UK and maintaining the highest stock holding. Making sure you have a consistently high class product whenever you need it.
Delivery
We have a dedicated network of delivery options, which means we are able to make next day deliveries nationwide on orders made before 1pm. Pre 10am, morning and specific delivery dates can be requested, and our sales team will endevour to arrange it. See our delivery terms here.
Extensive Range
We pride ourselves on having not only the
widest range of colours available, but the largest selection of grading, shapes and textures to choose from. We are sure that we can meet any requirement our customers may have. Our vast range of products means we're able to match current projects. Take a look at our extensive range here.
Dedicated Plant
To ensure a continuous quality material must be selected from reliable and consistent quarries. All dashing aggregates supplied by Derbyshire Specialist Aggregates are washed and screened prior to being packaged. It is normal for many products to be washed and screened again as part of the blending process used to create the large range of colours and textures demanded by our customers.
It is important that the products produced are carefully handled during the washing, blending and bagging process to minimise the attrition created when aggregates rub together which can cause a higher percentage of fines in the finished product.
Flexible Packaging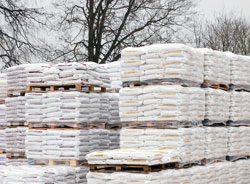 All of our materials are packaged in heavy duty polythene bags with a plastic hood for additional protection in 25kg, making it easy to get just enough for a project.
Samples
We supply free samples boxes of
pebbledashing material to our trade customers. We can also supply larger samples so you can create display or sample panels. Brochures with all of our products are available via the contact form. Take a look at our range of samples.
See for yourself
Don't just take our word for it, visit our main bagging plant at Arbor Low Works. We'll show you round, so you can see the process for yourself and you can take away any samples you need and speak to our in-house experts.
If you need any specialist advice, call us on 01629 636 500 or email sales@derbyaggs.com or contact us